We all sometimes wonder about what it would be like to live in a multi-million-dollar home. (It's not just me, right?) Here's a look at Utah's five most expensive home listings (the most expensive two top out at 30 million dollars).
Orem
Coming in at the bottom of our list at $19.5 million dollars is Utah's ultimate rustic retreat. This stunning residence (dubbed "The Barn") is 22,000 square feet and comes with 9 bedrooms and 2 baths. It's the classiest barn we've ever seen—it's filled with cedar wood, redwood, and stone.
The 19-acre property includes much more than the main residence. It includes a boat house, pool, motocross course with maintenance shop, hotel-style guest house, gathering area in the pines (complete with a huge fire pit), tree house, and a picturesque little red school house.
You'll also love the many, many mature trees on this land, including Utah's largest private grove of Sequoias. It's hard to believe that this gorgeous property is on the outskirts of Orem.
Listing courtesy of Summit Sotheby's International Realty – Park City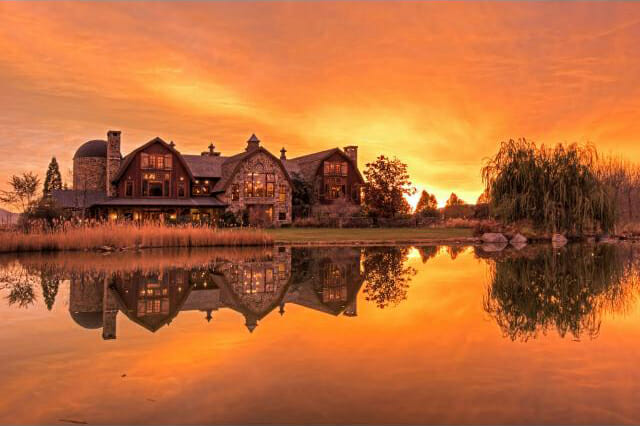 Woodland
This massive (nearly 18,000 square feet) log-cabin-inspired home was designed by award-winning architect Fred Babcock. The main home has 7 bedrooms and a children's bunk room. The grounds also have a 3-bedroom guest house, a 5,000 square-foot barn, and an outdoor pavilion with a large fireplace.
This home is part of Wolf Creek Ranch, an ultra-private 13,000-acre community just 20 minutes from Park City. It has 60 miles of trails, private fishing on the Provo River, and a common boundary with the Uintah National forest. As you can imagine, the views are unparalleled. If you love Utah's outdoors, this is the home for you.
Listing courtesy of Berkshire Hathaway HomeServices Utah – Park City
Springville
Fancy living near Hobble Creek in Springville, Utah, nestled underneath the gorgeous Wasatch Mountain Range?
This house is decked out with incredible craftsmanship and high-end finishes. And you'll never run out of things to do on this property. The highlight might be the indoor swimming pool, which has a waterfall, slides, and a lazy river. There's also a hot tub, movie theater, bowling alley, indoor basketball court, indoor shooting range, and an elevator. Plus, the drive is heated. This house comes with just about every luxury you could ever want (except perhaps the staff to keep it clean).
This gem comes with 185 acres of land. It's got 6 bedrooms, 12 bathrooms, and is just shy of 50,000 square feet.
Listing courtesy of Rocky Mountain Real Estate and Land, LLC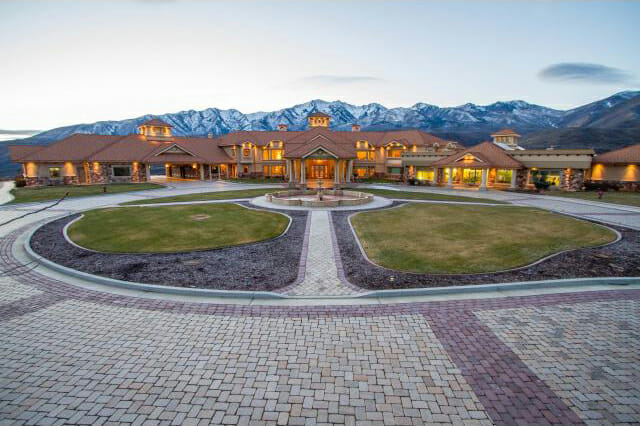 Mount Pleasant
If you want a bit of luxury in Central Utah, this home is tied for first place at $30 million. But it's a lot more than just a home. Bear Mountain Ranch boasts nearly 8,000 acres of land and borders the stunning Manti-La Sal National Forest.
There are more than 50 miles of trails and roads on this property. Whether you choose to enjoy them on your ATV, your horse, mountain bike, or on foot, you'll love the beautiful scenery and quiet atmosphere.
Plus, there's the house, which is 8,500 square feet. It has a huge great room and kitchen and dining area, so it's perfect for entertaining people for extended stays or just for weekend visits.
Listing courtesy of Summit Sotheby's International Realty – Park City
Oakley
If you've dreamed of living on a riverfront estate, this is the home for you. This 1900-acre property is right on the Weber River, so it's easy to go fishing in your backyard or play tennis on your new court. You can also fly in, because there's a heli-pad outside. The views here can't be matched.
The home is nearly 17,000 square feet and has stunning interior woodwork. The floor-to-ceiling bookcases, hickory flooring, and custom ironwork make it look as expensive as it is. The large windows let in tons of natural light and let you see how beautiful it is outside from every room.
Listing courtesy of Engel & Volkers Park City