It's always fun to see the most extravagant and highest-priced homes are in our area, and that's why I thought it would be fun to do a quick tour through the highest-priced home sales in our area in 2019.
10. Brand-New Park City Development
93 White Pine Canyon Road #82, Park City, UT 84060
Sales Price: $6,587,500
This 8,600 square foot home at the Colony, an award-winning home development in Park City, was just completed. The development is known for large lot sizes and privacy. The best part? The home is just a stone's throw away from world-class skiing and snowboarding. In fact, the Colony includes 10 ski lifts!
This gorgeous home includes a 4-car garage, plus a secluded yard and entrance. It also includes all of the upscale amenities you'd want in a home, including a bar, central vacuum, and radiant heating.
9. Holladay Contemporary Modern
6115 S Old Orchard Ln, Holladay, UT 84121
Sales price: $6,700,000
This stunning contemporary home was featured in Utah Style Magazine. It's been completely rebuilt with all the most modern finishes, and it's huge—17,000 square feet. It's perfect for anyone who wants to entertain with a large, private backyard with a pool and hot tub complete with changing rooms and a bathroom, a full outdoor kitchen, and kids' playhouse. There's also a basketball court and a fully equipped gum that opens onto the deck, plus a game room.
The inside isn't too shabby, either—there's a full theater room and a hallway of movie props. It also has a soundproof recording studio and personal spa room. The chef's kitchen has two refrigerators, two refrigerated ovens, and a full staff room. The master suite includes two bathrooms and a lovely private deck.
8. Park City Ski Home
3007 Deer Crest Estates, Park City, UT 84060
Sales Price: $6,810,000
How about a sleek 9,500 square foot home that exudes comfort and class? Designed by acclaimed architect Michael Upwall, it's one of Deer Valley's most luxurious contemporary ski homes (and it's located in the uber-private Deer Crest community).
The large open floor plan connects to 1,000 square feet of deck space for a true indoor-outdoor living experience. The home is filled with light and open space—there are glass railings on the floating staircase, floor-to-ceiling windows, and a glass elevator. Plus, you'll love the sauna and steam room, especially after a long day of hitting the slopes!
7. Park City Lake View Home
10738 N Summit View Dr, Park City, UT 84060
Sales Price: $6,850,000
This 8,725 square foot new-construction home was designed to maximize Park City's beautiful lake and tree views (stunning panoramic views of the Jordanelle Reservoir). It has easy access to the Jordanelle and Mountaineer ski lifts, and a full Deer Crest Club Membership is included. This is truly the perfect home for year-round recreation, with great hikes available just outside the door. (Oh, and there's a large, heated covered deck.)
The house is covered in wide plank wood floors, and the home is filled with beautiful cabinetry and woodwork. There's as large fireplace and gourmet kitchen with a handy butler pantry. There are also two mudrooms on the main level. Every bedroom is ensuite, and the master is on its own level and has a sitting loft, terrace, spa bathroom, and walk-in closet.
6. Luxury Park City Condo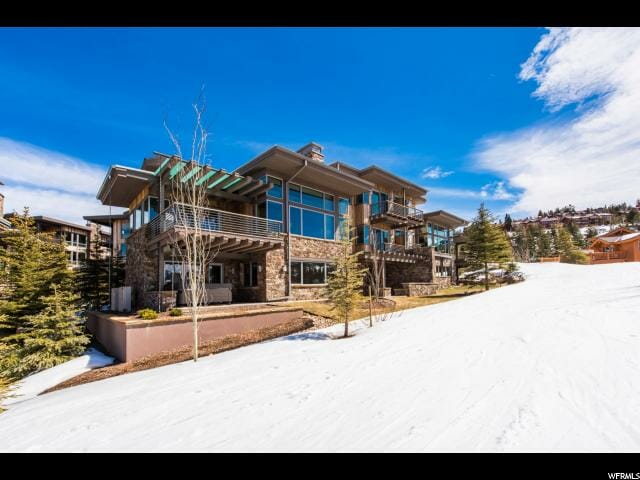 6981 Stein Cir #4, Park City, UT 84060
Sales Price: $6,998,000
This luxurious Park City condo has incredible views of Empire Pass, Lady Morgan Bowl and Park City Mountain Resort. You get direct ski access onto Silver Dollar Trail. The condo itself is just over 6,000 square feet, but you also get access to a clubhouse, exercise room, sauna /team room, swimming pool.
The inside includes an elevator, family room, ski locker room sleek modern finishes and warm wood. Huge windows let in a lot of light and warmth, even during the cold winter months.
5. Exclusive, 5-Star Deer Valley Condo
9100 Marsac Ave #1082, Deer Valley, UT 84060
Sales Price: $7,525,000
This 4,000 square foot Deer Valley condo is everything you could want in a condo near the slopes—OK, right near the slopes. The residence includes a gym, on-site security, a pool, a sauna, and an expansive lobby area. You'll also enjoy the residents' lounge and private residential concierge.
This high-end development also includes spa services, five-star hotel amenities, and fine dining nearby.
4. Private Park City Home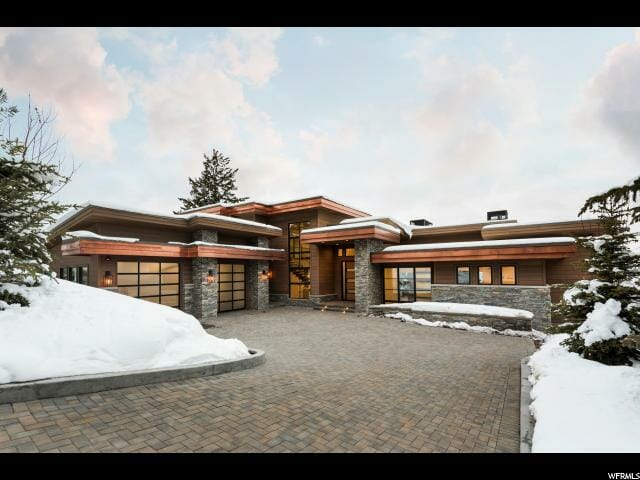 8095 Woodland View Dr, Park City, UT 84060
Sales Price: $7,750,000
This 8,450 square foot Park City home is in the secluded gated community of Alta Vista, which is just a short walk to Silver Lake Village, right in the heart of Deer Valley Resort. This home was just built, and it captures the stunning grandeur of a contemporary mountain home built to accentuate the views of the slopes and Historic Old Town Park City. The mature landscaping and trees are a bonus for this new-construction home.
The interior includes infinity edge windows, retractable glass walls, floor-to-ceiling windows, and minimal visual obstructions. The exquisite stonework is no doubt one of the best, and most interesting, parts of the home. The home is also filled with custom luxury amenities throughout, including an upgraded lighting system, smart home system, chef's kitchen, gym, sauna, and wine cellar.
3. Park City Dream Ski Home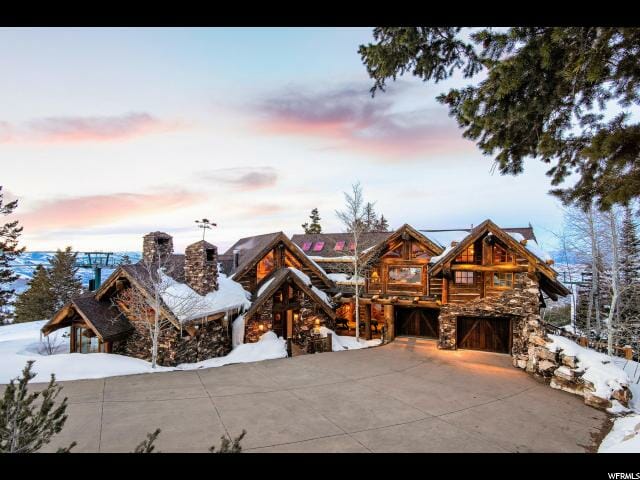 7841 Falcon Ct, Park City, UT 84060
Sales Price: $8,850,000
How about a 9,000 square foot home that is undoubtedly a ski lover's dream come true? This retreat is nestled on the flagship lot in Deer Valley's prestigious Bald Eagle neighborhood, and it's being sold for the first time! This is one of only a few properties that is entitled to ski-in and ski-out access to Silver Lake and Snow Park. It offers the most enjoyable lifts and runs right outside the front door.
It has a grand, open floor plan, perfect for gathering family and friends together. It has stunning views but also intimate, well-defined spaces. The timeless design and craftsmanship help the home feel cozy, despite its size. It has a recreation room, a hot tub and swimming pool, a private master with an office, and four custom fireplaces, plus radiant heating.
2. Park City Summit House
9828 N Summit View Dr, Park City, UT 84060
Sales Price: $23,750,000
And now we jump to the heavy hitters—there's a pretty big price difference here. This ski chalet is at the summit of the gated community of Deer Crest Estates, designed by renowned architect Michael Upwall. This ski-in/ski-out home is artistic and luxurious. At 20,000 square feet, it is truly a resort all on its own—it is the premier home at Deer Valley Resorts.
It has both indoor and outdoor chef's kitchens, a bowling alley, indoor sports courts, a ski locker room, a theater, theater, a gym, and a game room. It also has everything you need to really live in your outdoor space, including a heated pool a waterfall, and expansive decks.
1. Luxury Oakley Ranch
4343 E Weber Canyon Rd, Oakley, UT 84055
Sales Price: $32,000,000
And now, the crème de la crème (and the highest-priced home ever sold in Utah). This 16,800 square foot ranch sits on over 1900 acres of riverfront land directly on the Weber river. The property has a large riverfront barn perfect for entertaining or hosting weddings. It also has a tennis court and a heli-pad, amongst other amenities.
The inside features floor-to-ceiling walnut bookcases, hand-planed hickory flooring, and hand-forged custom ironwork, created on an Amish farm with an Idaho schoolhouse supplying the reclaimed wood. The great room allows for as many family and friends as you want to gather under one roof.